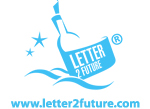 | | | |
| --- | --- | --- |
| | | Bus išsiųstas: 05-05-2017 |
Hi 23 year old Kasey in 2017,

It's 18 year old Kasey from 2012. That's right...today is the day you wanted to read this letter. Kinda hoping it's more fun to read this than it is discouraging. We'll see how it goes. In 2012 you hoped that in 2017 you would be fit, in a relationship, finishing up with college, content with a job, and most importantly, still in a relationship with your Savior. Not just a relationship though...you wanted to be on fire for Christ. You hoped that you would be studying His love letters to you, uncontrolably sharing the gospel with the people around you, and worshiping Him day-in and day-out. Your desire was to no longer be struggling with the apathy, and the discouragement that you felt so often toward everything Christian. You wanted to be just as much of a wittness and blessing during your everyday life, instead of just when you went to Mexico or somewhere in Africa. You hoped to have memorized scripture, so that you could use it to encourage others, as well as be lifted up by it yourself. You wanted to seek joy in Christ, instead of small moments of happiness. You wanted to look to Christ first in every circumstance.

Remember these things, and know that God always gives opportunities to draw closer to him.

-Kasey from 2012

P.S. Remember when everyone was saying the world was going to end in 2012? What a joke...