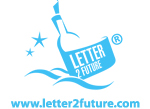 | | | |
| --- | --- | --- |
| | | Будет отправлено : 04-09-2021 |
Hi buddy,

By the time you are reading this I assume you're already 22. You made it!
Just want to remind you of how strong you've become during those trying times. I know 2020 had been rough but you're still here and that's the only thing that matters now. It's okay not to be okay and I couldn't be more grateful even if the only thing that you can do for now is just breathe. Things will get better soon. Just hang in there, okay? Hang in there for me, I love you.